Sun, salt, and ocean spray are no match for Skye's collection of beach- and pool-friendly clothing. When a layer of sunscreen and a wide-brim hat just won't cut it, our fabulous line of shorts, pants, tops, and more has you covered – literally.
Aside from protecting your skin from the elements, these over-layers are ideal for transitioning your look from day to night, or providing a little modesty if you don't feel like showing too much skin. Each one of our easy, breezy items was designed to blend the stylishness of a wardrobe staple with the breathability and weightlessness of beach wear. We call that a win-win.
Elle Pants in Maya & Angel Top in Black
Get your goddess on with Elle, our dreamy floor-length palazzo pant. This colorful striped coverup is made of a lightweight wrinkled woven rayon for beachfront wear, and includes a stretchy elastic back for enhanced comfort and convenient side pockets to hold small valuables.
Brigid Shorts in Gardina & Celeste Top in Black | Brigid Shorts in Black & Hilary Top in Itzel
Made of lightweight woven rayon with a hem that hits at the upper thigh, our Brigid short dazzles with lace front detailing. Slip them on over your bathing suit between dips, or wear them on their own with a plain white tee!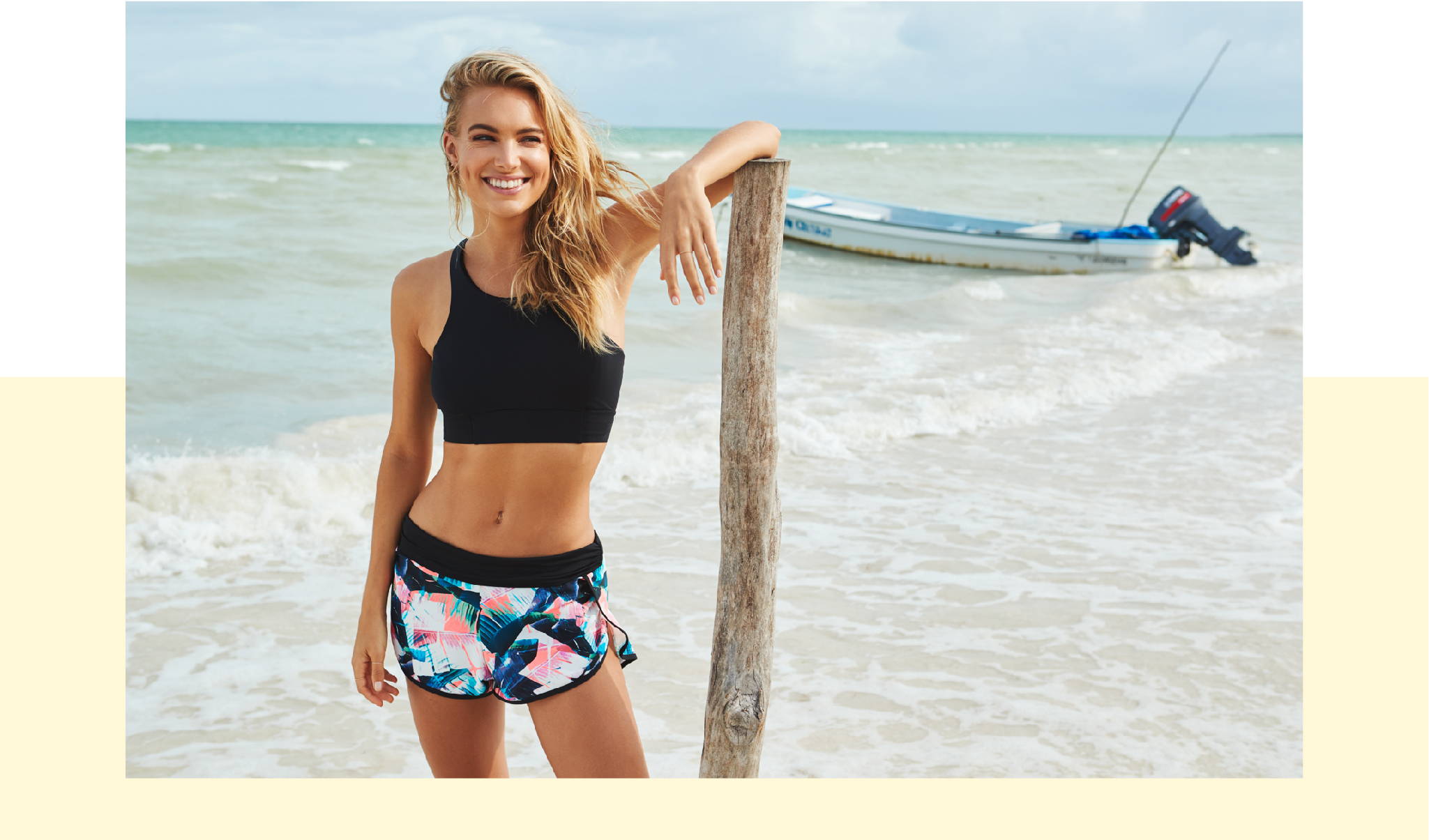 Lexi Shorts in Botanix & Anita Top in Black
Here's the long and short of it: our new Lexi swim short is all you need to enjoy a full day of sun-and-swim activities. This loose-fit runner-style piece will keep you light on your feet, featuring a sporty 2" inseam and a comfy side-ruched foldable waistband.
Amun Kimono in Wakaya & Angel Top in Black | Amun Kimono in Sipura & Stella Top in Black
Nothing says "beach goddess" quite like a long, cascading kimono. The Amun is made of easy, breezy woven rayon, with a hem that hits mid-calf. This piece is all about gentle beauty, featuring feminine side slits and an open front for a fit that's as relaxed as you are.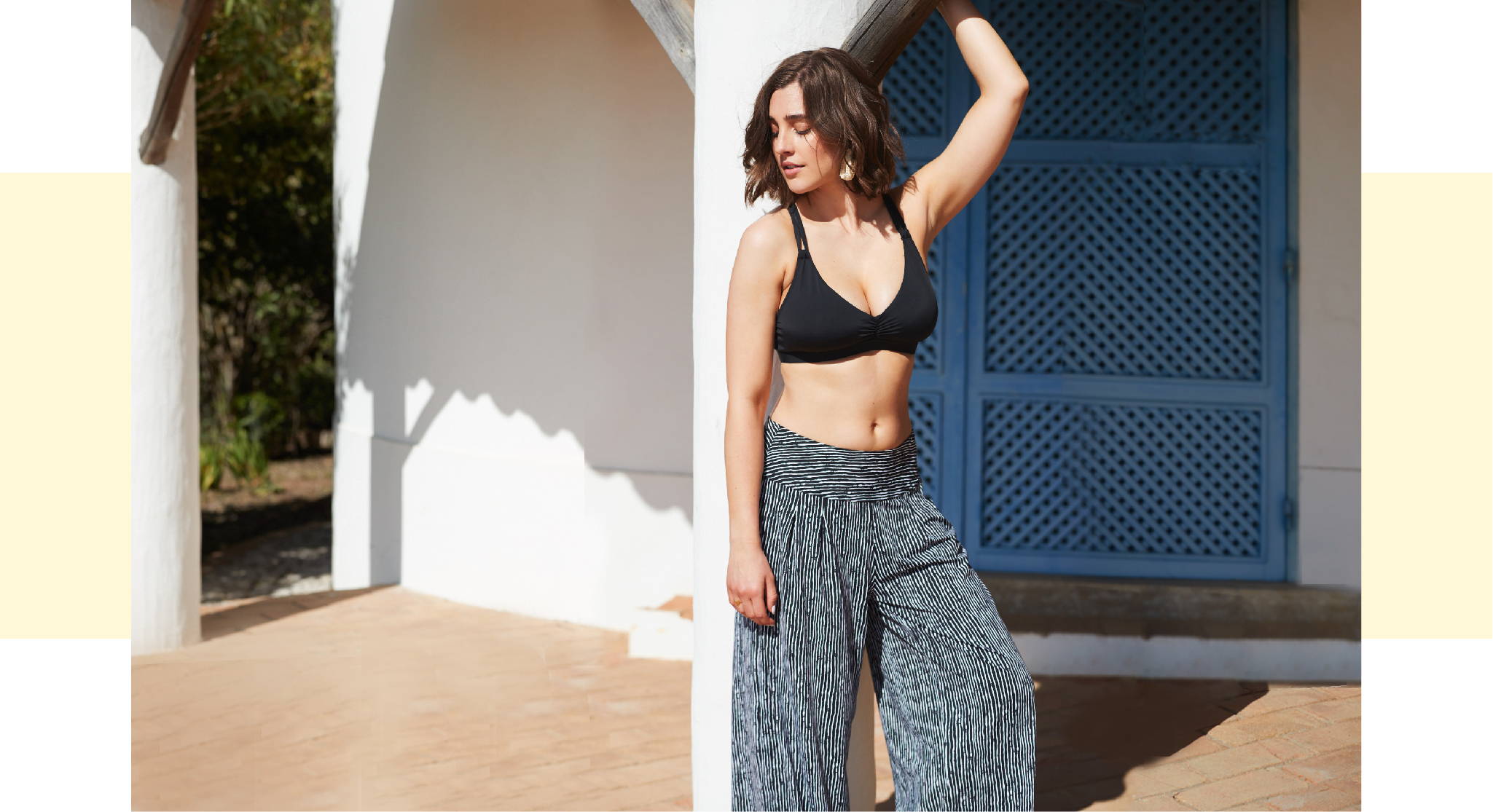 Kayra Pants in Wakaya & Sarah Top in Black
Who doesn't love the gentle touch of a breezy pair of pants after a long day? Kayra checks all of the most important boxes: this swim fabric palazzo pant is lightweight, flowy, soft to the touch, and features a wide waistband for 'round-the-clock comfort.
Sydney Sunshirt in Botanix & Lexi Shorts in Botanix | Sydney Sunshirt in Botanix & Angelina Bottom in Black
Give your complexion a break while enjoying your favorite warm rays with our Sydney sunshirt. Its zippered front makes it easy to slip on and off, so if you suddenly feel the urge to jump in the water, Sydney will never hold you back!